Does The Samson Expedition XP308i PA System Do Enough To Impress Performers Of All Kinds?
This product is currently unavailable. You can find similar model here.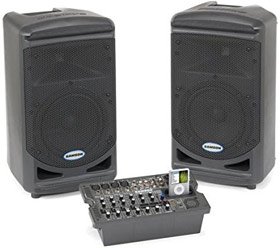 The Samson Expedition XP308i 300-Watt Portable PA System has an impressive sounding specification including dual 2-way speakers, two 150W lightweight Class D amplifiers and 8" and is advertised as being compact and portable while also offering a great sound.
According to Samson, this is the "ideal single system solution for a variety of live sound applications".
This, combined with the range of features and numerous inputs, leads buyers to believe that everyone from acoustic performers, public speakers and full bands could use this with great success. This makes the XP308i sound like a truly versatile product but what is it really like?