Does The Samson Expedition XP308i PA System Do Enough To Impress Performers Of All Kinds?
This product is currently unavailable. You can find similar model here.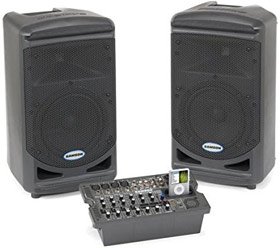 The Samson Expedition XP308i 300-Watt Portable PA System has an impressive sounding specification including dual 2-way speakers, two 150W lightweight Class D amplifiers and 8" and is advertised as being compact and portable while also offering a great sound.
According to Samson, this is the "ideal single system solution for a variety of live sound applications".
This, combined with the range of features and numerous inputs, leads buyers to believe that everyone from acoustic performers, public speakers and full bands could use this with great success. This makes the XP308i sound like a truly versatile product but what is it really like?
What advantages have users highlighted in their testimonials for this Samson Expedition PA System and is it being enjoyed by such a wide range of performers?
The first aspect that has to mentioned with this Samson PA is the the sound quality because it doesn't matter how fancy the specification sounds on paper if the final result isn't a sound that you want others to hear.
Thankfully, there are plenty of buyers praising this product for the both the even feel of the sound and the clarity of it as it is carried across the room.
On that note, even though most users say they are successfully using this product in "small" venues, the definition of small is open to debate because while some are using it so their band can play to 50-odd people in a coffee house, others have have used it to no complaints in a room of a capacity nearer 200.
This quality is partly due to clarity but it also due to the impressive sound to size ratio. This is where the system really exceeds expectations because few users expect such power and volume from something so small.
This combination of power and clarity and the apparent ability to fill a room of different sizes means that happy reviewers are indeed coming in all shapes and sizes. For every musician with an acoustic guitar there is a speaker renting out a church hall and there are even some bands writing reports.
What makes this Samson Expedition XP308i Portable PA even more appealing is that this is not the only way that it has surprised new users. Another benefit in this category is the way that it has been designed for portability and an easy set-up.
Samson simply call it a "practical design" but buyers would go further than that because they love the simplicity that makes packing up and setting up the equipment so easy.
The cords and mixer board are designed to stored in the back of monitors so it all fits together and doesn't require a special case for transportation – although there are some that would still appreciate a case if it was available – and it also seems to be pretty rugged.
If it it as versatile as it seems and it is exceeding expectations, are there any disadvantages to using this Samson Expedition XP308i Portable PA?
Disadvantages are hard to come by and the feedback received doesn't seem to uncover any major problems in the sound, design or ease of use. Instead, some buyers have a few small warnings to other buyers about drawbacks that may hinder the results slightly without being too damaging.
First there is the warning that the speaker output is actually around 110W and the 300W note on the specification refers to the power consumption. Secondly, the reverb is a bit too echoey.
Thirdly, the iPod dock may need an adapter depending on the model. Finally, the noise of the cooling fan noise can be noticeable in a quiet room, which could be an issue for speakers rather than musicians.
Summary: if users are simply giving out a few warnings, is this Samson Expedition XP308i a worthwhile purchase?
There are clearly a few drawbacks to the power and the sound quality that reduce the appeal a little bit for some prospective users but it works great in most rooms and the benefits of the set-up and portability help to make this a convenient model for many musicians and performers.
This leads to a final question about the versatility and recommendation: is it really ideal for anyone? Some say this is best for talkers and solo artists because of the quality of the sound and the potential for distortion but bands have used it with some success, if not complete perfection, so perhaps anyone can use this to some degree.
It pays to be cautious about what the Samson PA sound system can do, but you should not forget how many buyers have been surprised by the performance either.