The Roland CM-30 Cube Monitor is a high quality portable PA system featuring a two-way, 6.5 inch coaxial speaker. The Roland CM-30 can be used for live onstage monitoring as well as a public address or sound system.
With a built in handle and rugged construction, the Roland Cube can be moved and stored easily. This portable sound system also boasts a protective grill cover and corner protectors. With three input channels and two additional Aux inputs, the PA system is a versatile mighty mite in the sound world.
It delivers 30 watts of magnificent sound and features a stereo link function that allows a connection between two units. That allows for eight stereo inputs, adding to its versatility. The Roland CM-30 Cube Monitor is just the component for the home studio and multi-range monitoring applications.
Roland CM-30 Cube Monitor PA System Reviews
The light weight of the Roland CM 30C has made it a favorite of consumers who use the device in different venues.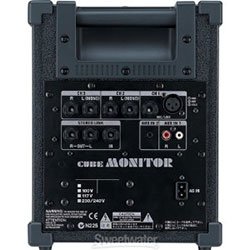 Moving such equipment from place to place can be a challenge but with the Roland CM-30 Cube Monitor transporting and setting up the device is less labor intensive than the bigger and bulkier models.
The versatility of this portable PA system is a big plus for those operations that require multiple applications. In addition to musical applications, the Roland cube is useful for a speaker application for a laptop when presenting a lecture to a group.
There is no reverb to destroy the quality of the sound, and the output is perfect for a room up to approximately 25 feet by 25 feet. For larger rooms, an additional Roland connection is advisable.
Some users offered slightly negative responses. This public access system was being used as a percussion amplifier, and it could not handle the simultaneous highs and lows that the instrument required which resulted in distorted sound.
Other than that, the user found it works well for vocals and most other applications. Another drawback found with this Roland portable PA system is the ability to only link two of the devices together. If greater versatility is warranted, a bigger sound system is necessary.
The Roland CM30 Cube Monitor has earned high marks from all those that use it. Even for the size and affordability of the device, the sound is impressive. It delivers crisp, clear sound and bass at a moderate level. The quality rivals that of more expensive sound systems for a moderate size room.
This portable sound system delivers the goods as promised by the manufacturer and is fast become the hardest working sound system around. The quality of construction allows this little beauty to stand the test of time and use and be the work horse for many years to come.
Find more customer reviews about this Roland CM-30 PA system on Amazon here.