Does The Budget Rockville RPG122K PA Speaker Kit Have All Users Need?
This page contains Amazon affiliate links. If you click through and make a purchase, I'll earn a commission, at no additional cost to you. Read my full disclosure here.
The first thing that buyers see with this Rockville RPG122K Dual 12″ Powered DJ/PA Speakers kit is the amount that they get for their money.
This isn't a particularly expensive system, not compared to some of the well-known names around. Yet, there is a definite beginner's kit here.
There are two speakers – one active and one passive. They come with their stands, as well as all the appropriate cables, a remote control and a microphone.
This means that it should be easy enough to get set up. The question is, are all those components good enough to meet the needs of users.
Check Price and Availability Here
The Pros and Cons of this Rockville RPG122K DJ/PA Speakers :
Pros:
a nice selection of features to play with – some better than others
enough clarity and bass for small-scale applications
a portable, tough design for musicians on the go
Cons:
short wires so little freedom of movement
a cheap microphone with flimsy plastic casing
The basics of this Rockville RPG122K PA Speaker kit are pretty good for those with minimal needs and a low budget.
There are some nice features in this kit. This remote control is helpful because of the different input options for this system. There is a cable in the package that allows for musical instruments, so singer songwriters can plug in all they need with ease.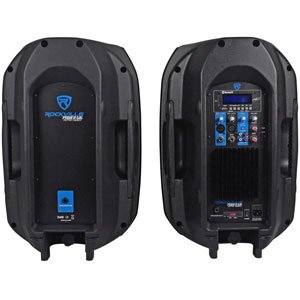 There is also a USB port for a thumb drive, which allows for an MP3 backing track, as well as a Bluetooth connection.
These are great for those that want a little accompaniment for their gig, or some audio files for their talk. Then there are those that praise the speaker stands for being a sturdier than expected.
Finally there is the quality offered by this speaker system for that low price. There are some great promises in the specification about the clarity of sound from the 12'' Long-throw woofer and the intensity of the bass.
There is also a 25mm Piezo Compression Horn Tweeter for the highs. When used in the right setting, with the right equipment and volume setting, they can help to amplify the sound pretty well. There are comments from those setting up film screening and other low-key events with few complaints.
The makers of this Bluetooth PA system promise that users can enjoy a portable system thanks to the small size and light weight. Most users would agree that it is indeed light and easy to manage. There is a carry handle on the side that is helpful.
In addition to this, there is also an ABS casing to prevent against damage, just in case someone does drop the system during transit. This should provide peace of mind to users, especially when they consider some of the downsides seen in this device.
Still, there are some disadvantages to choosing this cheaper Rockville RPG122K DJ Speakers.
The low cost of this system means that they had to cut a couple of corners somewhere. The most obvious example is with the microphone. Some refer to this as little more than a cheap toy thrown in to complete the set. The plastic build is light and flimsy and users aren't too sure about the wiring either.
On the subject of wiring, there are also some that replaced the cables and connections, as well as the microphone. Some do so because of the length, while others want something with a little more quality to it.
Then there is the issue of the length of the power cable. These PA/DJ speakers don't have a lot of room to move away from the outlet. This could be a problem when setting up on stage, or dealing with outdoor situations.
So what does this all mean for a recommendation on this Rockville RPG122K PA Speaker system?
This set is a classic example of you get what you pay for. There is enough within the speakers themselves to warrant the purchase, because of their clarity and amplification in basic situation. The strength of the stands and portable design are both helpful extras.
Yet, there are the two issues of the cheap microphone and short cables. Those looking for a high-end, all-in-one kit may benefit from paying a little extra for their system. Those that want to start small and upgrade could enjoy adapting this Rockville speakers into something interesting.
Find more reviews about the Rockville RPG122K PA Speaker on Amazon here.