Is The Hisonic HS700 Portable PA System The Helpful Device Trainers And Speakers Are After?
Wireless PA systems are a must have item for many performers that want a simple means of projecting their voice and their message to an audience and the Hisonic HS700 True RMS 35 Watts Rechargeable & Portable PA System aims to please with its large range of features.
This rechargeable, portable sound system promises a great clarity of sound through the 35W speakers and brilliant wireless connections but are buyers happy with what they receive?
What benefits have buyers mentioned in their testimonials for this Hisonic Portable Wireless System?
This Hisonic PA sound system has the interesting selling point of seeming like a complete package with all its different parts – like the wireless microphone, belt-pack transmitter and headset – but at the same time, portable and compact. This headset is a big highlight for many teachers and expressive performers who already have their hands full.
Also, even though the designers have taken the time to ensure that this system is lightweight enough to be picked up, there is the added benefit of the casters and luggage handle for transporting it around with greater ease.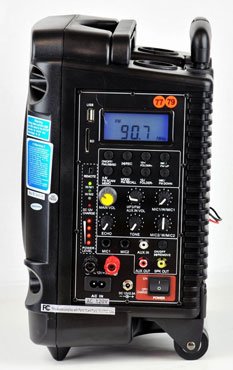 Setting this system up and receiving a full package of physical parts is a great start but to be truly worthwhile this Hisonic HS700 True RMS 35 Watts PA System needs great inputs and outputs.
The Bluetooth connectivity is heavily promoted in sales descriptions for the way that it allows for strong streams from laptops and mobile devices and there is also a microphone jack and Aux input for more old-fashioned, wired connections.
Many reports suggest that these connections are strong and reliable so help to provide more options for users. As for the output and the sound quality, the volume is strong enough to attract attention and fill a small room while remaining clear so audiences can benefit as well as the speakers.
Are there any downsides to this Hisonic HS700 Rechargable & Portable PA System that prospective owners need to be aware of?
The positive feedback on the parts, design and sound quality show that this model has a pretty good, all-round performance. A small minority of buyers have, however, criticised the range on the wireless microphone, suggesting that performers cannot go wandering too far out into the audience, and there are also issues with the manual.
That all-important Bluetooth connection and rechargeable battery are beneficial but they are not that easy to figure out without guidance.
Summary: is this Hisonic HS700 35W Transportable Bluetooth PA a recommendable purchase for performers on the road?
There are some potential issues with this model that will annoy some buyers and it can take some time to understand how it all works but most customers would agree that any learning curve experienced is worthwhile for the benefits gained. There may be some limitations to the wireless performance but the portable design and sound quality really are high points.
If you are a public speaker, trainer or a teacher of some kind and your priorities are clear sound for a small room in a convenient, highly-portable system, the Hisonic PA system could be a great choice.
Find more customer reviews about the Hisonic HS700 True RMS 35 Watts Rechargeable & Portable PA System with Built-in VHF Wireless Microphones on Amazon here.